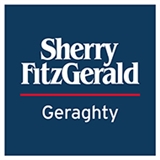 Sherry FitzGerald Geraghty
22 Killegland Street, Ashbourne, Co. Meath.
01 835 0577
reception@sfg.ie
PSRA Licence no. 003890
About Sherry FitzGerald Geraghty
Sherry FitzGerald Geraghty was formed as a joint venture between Celine Geraghty, SF Harlin Farrelly in Navan and SF Sherry in Dunshaughlin and opened in 2005. Director Celine Geraghty, who has been in the property business for 25 years, joined SF Harlin Farrelly in February 2000. Celine now runs the Ashbourne branch with the assistance of 1 full time negotiator and two part time staff members. The branch is based in a rapidly developing and expanding town only 12 miles from Dublin City Centre..
Our Team of Experts

Celine Geraghty MIPAV REV MCEI
Director
087 2729560 / 01 8350577
Katherine Fogarty Assoc SCSI
087 2592292 / 01 8350577