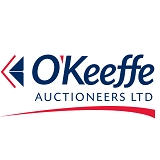 O'Keeffe Auctioneers Ltd.
13 John Street, Kilkenny, Co. Kilkenny
087 2585312
sales@okeeffeauctioneers.ie
PRSA Licence no. 002758
About O'Keeffe Auctioneers Ltd.
OKeeffe Auctioneers LTD is located in the heart of Kilkenny City with our offices at Number 13 John Street. One only has to observe the number of interested parties who view our window display in order to appreciate the asset our location has on the marketing of your property.. Here at OKeeffes we offer the traditional values of service and professionalism, along with an exceptionally progressive marketing approach. In todays fast-moving property market, it's essential to choose the right estate agent to help secure the best price for your home. We have an experienced, local, well qualified, professional team who strive to ensure that we offer a superior level of service to all our clients. This means that youre always assured of our very best attention, while your property is advertised at its most attractive to the right customers. O'Keeffe Auctioneers delivers peace of mind of working with one of Kilkenny's leading estate agents. Our team of enthusiastic and highly trained staff work tirelessly to ensure that our clients get the very best results. At O'Keeffe Auctioneers we have the people, the network and the know-how to move your property from "For sale" to "Sold"
Our Team of Experts
Ann O'Neill
056 7763963
About O'Keeffe Auctioneers Ltd.
OKeeffe Auctioneers LTD is located in the heart of Kilkenny City with our offices at Number 13 John Street. One only has to observe the number of interested parties who view our window display in order to appreciate the asset our location has on the marketing of your property.. Here at OKeeffes we offer the traditional values of service and professionalism, along with an exceptionally progressive marketing approach. In todays fast-moving property market, it's essential to choose the right estate agent to help secure the best price for your home. We have an experienced, local, well qualified, professional team who strive to ensure that we offer a superior level of service to all our clients. This means that youre always assured of our very best attention, while your property is advertised at its most attractive to the right customers. O'Keeffe Auctioneers delivers peace of mind of working with one of Kilkenny's leading estate agents. Our team of enthusiastic and highly trained staff work tirelessly to ensure that our clients get the very best results. At O'Keeffe Auctioneers we have the people, the network and the know-how to move your property from "For sale" to "Sold"
Our Team of Experts
Ann O'Neill
056 7763963