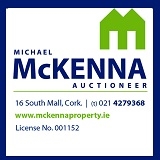 Michael McKenna Auctioneer
16 South Mall, Co. Cork
021 427 9368
info@mckennaproperty.ie
PSRA Licence no. 001152
About Michael McKenna Auctioneer
Michael McKenna Auctionner, is a Cork auctioneering company located at 16 South Mall Cork. The following are some of the services that we supply: Residential Sales Commercial Sales Sites Land New Developments We can also provide you with a wealth of information, so please contact us. Our opening hours are 9.00am to 5.30pm, Monday to Friday, lunch from 1.00pm to 2.00pm each day.
Our Team of Experts

Michael McKenna MSCSI MRICS
087 2529038 / 021 4279368
Rita O'Driscoll MSc.RealEst, B.A.
Licence Number: 001152-007522