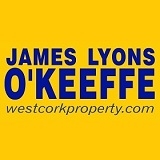 West Cork Property Ltd
48 Main Street, Schull, Co. Cork.
028 28 122
info@westcorkproperty.com
PSRA Licence no. 001144-006634
About West Cork Property Ltd
At James Lyons O'Keeffe Auctioneers, Valuers and Estate Agents we have been selling and renting property in and around West Cork since the early seventies. West Cork --? Where does it begin and end? Well we know where it ends--- just beyond Crookhaven and the golden beaches at Barley Cove i.e. the tip of the Mizen Peninsula. Beyond that it's just acres of Atlantic Ocean – America next stop! Where it begins is debatable – there are lots who would wish to be under the umbrella of its magic! If you are one of those people we will not just show you property around the area, we will also show you the area. So call us, or contact us by email... tell us what you are looking for and we will do our best to make your dream come true!
Our Team of Experts
Stephen O'Keeffe
Colm Cleary
028 28122
Caitriona Jardine-Otway
087 765 4410