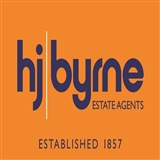 H.J. Byrne and Company Ltd.
357 North Circular Road, Dublin 7
01 872 8507
brian@hjbyrne.com
PRSA Licence no. 001128
About H.J. Byrne and Company Ltd.
HJ Byrne & Company Limited was established in 1857. Through four generations we have provided and continue to provide a personal professional service based on independent advice and integrity. HJ Byrne & Company Limited offer the fullest service in all sectors, i.e. residential, commercial, retail, industrial, lettings and property management in both residential and commercial. Your property will be dealt with by our team of experts in the manner best suited to its disposal, i.e. by private treaty, by auction or by tender. It is not all about sales, our letting department in both Phibsborough, Dublin 7 and Bray, Co. Wicklow handles residential houses and apartments, industrial and commercial buildings, office space, in Wicklow & Dublin. Mortgage Valuations are carried out for Irish and International leading lending institutions, banks and building societies. We have a fully qualified BER Assessor on our staff who can undertake BER Assessments if properties are offered for sale or to let and also for approval for grants from SEAI. Court work is taken on, on a regular basis. In this area are we are instructed to present expert valuation evidence in marriage separation cases, Landlord and Tenant Act applications and any other cases that call for professional representation and advice. Daily enquires are logged for all types of residential and commercial enquiries – let us match your property to our enquiries which are updated daily. Good presentation of your property is assured. Our award winning shop front and window display provides the perfect platform for public scrutiny. PSRA LICENCE NUMBER 001128
Our Team of Experts
Susan O'Reilly
Brian Lynch
Aisling O'Kelly
About H.J. Byrne and Company Ltd.
HJ Byrne & Company Limited was established in 1857. Through four generations we have provided and continue to provide a personal professional service based on independent advice and integrity. HJ Byrne & Company Limited offer the fullest service in all sectors, i.e. residential, commercial, retail, industrial, lettings and property management in both residential and commercial. Your property will be dealt with by our team of experts in the manner best suited to its disposal, i.e. by private treaty, by auction or by tender. It is not all about sales, our letting department in both Phibsborough, Dublin 7 and Bray, Co. Wicklow handles residential houses and apartments, industrial and commercial buildings, office space, in Wicklow & Dublin. Mortgage Valuations are carried out for Irish and International leading lending institutions, banks and building societies. We have a fully qualified BER Assessor on our staff who can undertake BER Assessments if properties are offered for sale or to let and also for approval for grants from SEAI. Court work is taken on, on a regular basis. In this area are we are instructed to present expert valuation evidence in marriage separation cases, Landlord and Tenant Act applications and any other cases that call for professional representation and advice. Daily enquires are logged for all types of residential and commercial enquiries – let us match your property to our enquiries which are updated daily. Good presentation of your property is assured. Our award winning shop front and window display provides the perfect platform for public scrutiny. PSRA LICENCE NUMBER 001128
Our Team of Experts
Susan O'Reilly
Brian Lynch
Aisling O'Kelly