Inside the Showhouse: Seaview Way, Blackrock, Co Louth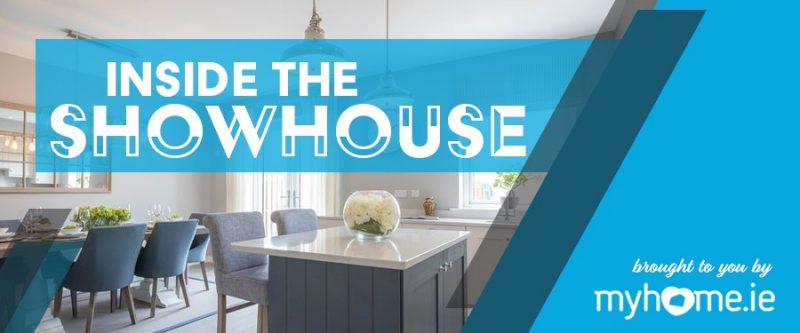 Posted on Mar 8, 2019 by MyHome.ie in
There's something truly wonderful about a show house.
They're how we wish our own homes looked. Presented in pristine condition without the clutter and distractions of everyday life, you'll not trip over toys in one, find a towel on the bathroom floor or coats and jumpers thrown over kitchen chairs. There's no bags discarded inside the hall door or shoes left lying here, there or everywhere.
Instead they give you a vision of how good life can be. A bit of luxury and relaxation.
How many times have you walked into a show house and just wished you could chill out on that luxurious new sofa or immaculately made bed?
For a lucky few, they'll fall in love with a show house and purchase it but for the majority the modern look and exquisite design is but a pipe dream.
It doesn't have to be that way though.
Okay, so you're unlikely to love every last element of a show house but each of the elements within it are available to you.
Case in point is Seaview Way, a new phase of 3 bed homes in the Shannon Homes-built Cnoc na Mara development in Blackrock, Co Louth.
These stunning houses are launching this weekend through DNG Duffy estate agents and are worth checking out.
Located beside Dundalk Golf Club with the vibrant village of Blackrock just a short stroll away, you'll instantly fall in love with the striking glass fronts of these architect designed homes that boast amazing sea views overlooking the Cooley Peninsula.
With the town of Dundalk just a few minutes away and Dublin and Belfast within an hour's drive via the nearby M1 motorway, these homes are sure to attract interest from both near and far.
Ahead of the launch, Keith Duffy of DNG Duffy commissioned Audrey Reynolds of Estilo Design to kit out the show house which will be open to the public this Saturday and Sunday from 2pm to 4pm.
Audrey, who is based out of the Outhaus premises in Santry, Dublin 17, kindly guided MyHome.ie through the show house to give us a flavour of its contents.
The first thing that greets you when you arrive at Seaview Way is the stunning sea views. The sun is shining when we arrive so it's hard not to pause for a second to soak it in. You can't help but feel that it would be pretty special waking up to that sight each morning.
The view really needs to be seen to be appreciated but the house is definitely worth a look too. The long cobble lock driveway is inviting and you instantly feel at home as you open the front door.
There's, as expected, an entrance hall greeting you when you step inside but our eyes were immediately drawn to the living room to our right with its light green tone giving you an instant coastal feel. On first impressions you can't help but think how nice it would be to chill out here.
That's certainly the vibe interior designer Audrey Reynolds was going for.
She said: "The style of the interior was aimed at a young market, first time buyers, couples, or young families. We wanted to capture the colours and tones of the beautiful coastal location and the main colour palette of the house is coastal, light and vibrant."
She certainly managed that, going on to explain how the downstairs area was fun for her to plan.
"We wanted to bring a relaxed coastal feel to the show house, using wide plank laminate floors and wood effect tiles in the upstairs bathrooms. We added touches of luxury with marble and brass side tables, the Saarinen inspired dining table in the kitchen area and beautiful wallcoverings."
Most of what you see in the show house at Seaview Way is exclusive to Audrey's company Estilo Design, as she sourced most of the furniture from different parts of the UK and Europe.
The flooring is high end wide laminate and comes from Outhaus in Santry. It has soft greys and creams, giving it a beachy, coastal feel that lends perfectly to the theme of the living room.
While the rug is called Nodebo from Ikea, all of the furniture from the feature mirror to the various tables and chairs were imported from the UK via Estilo Design. The paint colour is Farrow & Ball Dix Blue with the mock panelling added to the walls really complimenting its soft tone.
The living area naturally flows into the kitchen, which has a very homely feel. Audrey was recently at the Maison & Objet design fair in Paris and it was here where she sourced the kitchen table and stools. The fabrics used throughout the house are from her own showroom at Estilo Design while the marble furniture and brass was imported especially for this show house from Paris.
The kitchen is supplied by McNally Living with its darker tone giving a beautiful contrast to the natural light that emanates throughout the property.
"We wanted the kitchen to be sleek and modern so we created a bulkhead over the kitchen units to create a modern space with clean architectural lines. We selected a beautiful dark grey cabinet door which was complemented by a polished concrete effect work top and backsplash from McNally Kitchens," said Audrey.
The bulkhead is a lovely touch that gives the kitchen a fuller feeling.
Without question the most eye-catching element of the kitchen/dining area, however, is the feature wallpaper. Available from Estilo Design, its light pink and gold tones are a real eye catching feature which perfectly compliment the mirror on the wall.
Audrey said: "Pinks, greens and golds are very on trend right now and beautifully compliment the dark grey tones of the McNally kitchen. This scheme in the kitchen/dining area is really nicely completed by a feature mirror in aged gold."
Moving into the hallway, there's again beautiful textured wallpaper and a hall table from Estilo but our attention is immediately draw to the downstairs WC with the Bertie tiles from Outhaus really complimenting the stunning Flamingo wallpaper from Estilo.
Again, mock panelling gives a nice feel to a room which is kitted out with Sonas bathrooms.