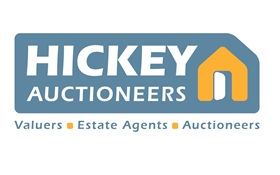 Hickey Auctioneers
79 Upper Dorset Street
Phone: (01) 8309055
Fax: (01) 8308923
http://hickey.ie/
Email
About Hickey Auctioneers
HICKEY AUCTIONEERS - VALUERS – We provide a specialist valuation service in respect of all types of RESIDENTIAL and COMMERCIAL property, covering Dublin city, North, South and West, Ashbourne, Ratoath, Dunboyne, Celbridge, Leixlip and Bray.

Property valuations can be carried out for a wide range of purposes including bank valuations, local property tax, re-financing, probate and the HSE Fair Deal scheme. We are on the panel of ALL the major lenders including AIB, KBC Homeloans, ICS Building Society, Permanent TSB, Bank of Scotland (Certus), Bank of Ireland, Ulster Bank, First Active and EBS.

We provide a 24 hour turnaround on all valuation instructions. Contact us by phone on 01 8309055, by email at info@hickey.ie or via our website www.hickey.ie

We are members of the Institute of Professional Auctioneers and Valuers (IPAV) and we are compliant and registered with the Government agency, The Property Services Regulatory Authority.

ESTATE AGENTS / LETTING AGENTS – We have been selling and letting property for over 30 years and will offer you sound, professional advice. We are a family run business and this enables us to provide our clients with a unique personal service. Thinking of selling or letting a property? Contact us today to discuss your options.

BER ASSESSORS - We carry out Building Energy Rating Assessments for vendors of residential property, landlords of residential property and homeowners applying for the Better Energy Homes grant scheme. We are registered with Sustainable Energy Ireland (SEAI). Contact us for a very competitive quote.

With over 30 years experience we have earned an excellent reputation in the industry. Our attention to detail and customer service are unrivalled.

Contact Hickey Auctioneers